Health CS Mutahi Kagwe announced 5 new cases of Coronavirus (Covid-19) cases in Kenya, as the tally rose to 184 cases on Thursday, April 9.
The CS, while addressing the media outside Afya House, Nairobi stated that of the new 5 cases, two were Kenyans and two were foreign nationals.
"The two had travelled out of Kenya. Out of the five cases, only one case came from our mandatory quarantine," Kagwe stated.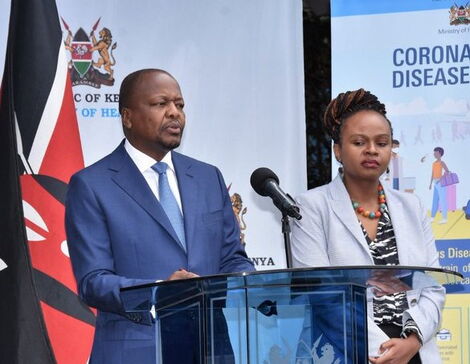 Health Cabinet Secretary Mutahi Kagwe (Left) and his Chief Administrative Secretary Mercy Mwangangi during a press briefing in March 2020.
File
The CS went on to state that the five individuals had already been moved to isolation and contact tracing had started.
He also informed that four individuals had been discharged after undergoing treatment as those discharged tallied to 12 since Coronavirus broke out in Kenya.
However, one individual succumbed to the disease bringing the number of those who have died to 7. 
"The person had passed on before, they had not noticed that he had died upon arrival at the hospital in Mombasa County. Out of the 184 cases confirmed in Kenya, 107 are male while 77 are female. In terms of age breakdown of the 184 cases, 3 are below 15 years, 49 are between 15 and 29 years, 119 are between 30 and 59 years and those above 60 years are 13," Kagwe stated.
"2046 persons have been monitored, 1448 have been discharged and 598 are on follow up," he added. 
The CS also stated that the ministry had closed two quarantine facilities and urged Kenyans to allow the individuals to be part of the society once again by openly embracing them.
"We have managed to close down a number of quarantine facilities which include the Trademark and Hill Park hotels. We are now appealing to fellow Kenyans to warmly receive those of us who were in those facilities and were released to go home. There should be no stigmatisation of anybody," Kagwe urged.
While reiterating the government's stipulated protective measures, Kagwe insisted that everyone should stay at home during the Easter holiday as no activities would be ongoing countrywide. basing his plea on the shut down of schools, bars, hotels and banning of gatherings.
The CS also warned individuals flouting government rules, lamenting on boda boda operators who were being used to break the lockdown directive issued by President Uhuru Kenyatta, restricting movement in and out of Nairobi, Kwale, Kilifi and Mombasa counties. Kagwe warned that their motorbikes would be taken away, putting their business and those of others in jeopardy.
"We have noted that there are those who are trying to challenge the law with boda boda operators carrying more than one passenger, as opposed to the law. We have noted that they are used to flout restrictions in and out of hotspots. We encourage law-abiding operators to compel their colleagues to observe measures in order to protect the business.
"We have also noted the level of face masks being sold in the streets. We shall continue to monitor the masks and ensure they are of standard. I would also like to address a special sector in our economy, the Juakali operators and others such as colonists, mama mboga and barbers. Our economy to a large extent depends on you, but also a lot of abuse and non-distancing is happening in your sector. I am appealing to you adhere to the law of social-distancing," Kagwe urged. 
Boda Boda operators wait for customers at a stage.
Capital Group