March 27: Tests rise after Jack Ma's donation
Nigeria reports that receipt of donation of medical supplies from Chinese businessman and CEO of Ali Baba; Jack Ma, had shot its testing capacity up by 32%.
Africa's most populous nation had carried out a paltry 262 tests for the virus as at March 25, local media portal The Cable reported citing available data they had seen. The sum is insignificant compared to South Africa which had carried out over 20,000 tests with a tally of over 1000 cases.
As at March 26, Nigeria had 65 confirmed cases with majority in the commercial capital, Lagos. The portal today reported that the Nigeria Centre for Disease Control (NCDC) confirmed a spike in testing after the donation which arrived in the country on March 24.
The donation included 20,000 testing kits, 100,000 masks, and 1,000 medical use protective suits and face shields for each African country.
Out of Nigeria's total tally of 262 tests, 84 tests were carried out on Wednesday alone, indicating a daily increase of 32 percent done by the end of March 25. Tests are now run in 23 states out of the initial 16.
COVID-19: NIGERIAN AIR FORCE AIRLIFTS MEDICAL MATERIALS DONATED BY JACK MA FOUNDATION FROM LAGOS TO ABUJAhttps://t.co/KBdL6OXWoz pic.twitter.com/znAOaU3gW0

— Nigerian Air Force (@NigAirForce) March 25, 2020
March 26: Cases now at 65
Lagos continues to be what could be termed as the heartbeat of the coronavirus in Nigeria. Out of the 14 new cases announced ny the National Center for Disease Control, Lagos had twelve with the other one in Abuja and the other in Bauchi.
Ogun state is the only other state with more than one case. Ekiti, Oyo, Edo, Osun, Rivers and Bauchi all have recorded a case each. In the case of Bauchi local media outlets reported that a second case had been confirmed by the state government as at Thursday.
The federal government disclosed today that inter-state travel was to be banned as a control measure. Government has shut all land and air borders but not declared a lockdown.
The United Bank for Africa Group on Thursday also announced a donation of $14 million towards the coronavirus fight in the country.
Whiles the majority of the money will benefit each state state in the country, an amount of 1.5 billion naira is also to the 19 other African countries where the bank operates, by supplying relief materials, critical care facilities, and financial support to Governments.
For his part, UBA Chairman, Tony Elumelu said: "This is a time when we must all play our part. This global pandemic must bring citizens, governments & business leaders together – & quickly.
"As we see a rapidly increasing number of cases of the coronavirus in Nigeria & Africa, the private sector has to work hand in hand with various Governments, in stemming the spread.
"We commend the efforts of governments & we're keen to partner & contribute our resources to the collective effort, that'll ensure the response to the pandemic is swift & effective."
N1 billion to Lagos, Nigeria

N500 million to Abuja, Nigeria

N1 billion to the remaining 35 states in Nigeria

N1.5 billion to UBA's presence countries in Africa

N1 billion for Medical Centres with equipment & supplies

Free Telemedicine call centre facility

— UBA Group (@UBAGroup) March 26, 2020
Other major highlights covered below are:
Ex-VP Atiku donates $135,000 towards relief fund
Bauchi State governor tests positive
Lagos closes all shops and markets for a week
President tests negative, chief of staff infected
Nigeria shuts all borders, cabinet meetings suspended
Lagos state battling chloroquine poisoning
Nigeria celebrates female doctor who identified index case
March 26: Bauchi records second case
The only state in northern Nigeria with a confirmed coronavirus case has recorded a new case. Bauchi state now has two cases according to Commissioner for Health, Dr. Aliyu Maigoro, who made the announcement during a press conference on Thursday.
He said the second case is a 62-year-old patient. The state governor Senator Bala Mohammed confirmed this week that he had the virus and is currently in self-isolation.
President Buhari tested negative but his chief of staff who recently visited Germany, Abba Kyari, returned a positive result. So of former veep Atiku Abubakar has also tested positive while Buhari's daughter is in self-isolation – as a precautionary measure – after returning from the United Kingdom.
March 26: Six patients recover, cases up to 51
Nigeria is set to release six coronavirus patients after they fully recovered from the infection. All six persons are in Lagos State, the hardest hit by the disease. It will bring to eight the total number of recoveries.
The disease control outfit said as at Wednesday March 25, the total number of cases stood at 51 with two recoveries and one death.
Meanwhile there are concerns over the relatively woeful number of testing that has been conducted across the territory. A report by the local newspaper The Cable says a total of 178 tests have been run in Nigeria as a whole. Lagos alone has undertaken 88 of the figure with 52 in Abuja, the federal capital territory.
The Federal Government announces plans to ban inter-state travel and possibly close down all motor parks as part of measures to curtail the spread of the coronavirus, Information Minister, Lai Mohammed disclosed the plans this afternoon.
For a breakdown of cases by states in real time, please see https://t.co/zQrpNeOfet

Currently;
Lagos- 32
FCT– 10
Ogun- 3
Ekiti- 1
Oyo- 1
Edo- 1
Bauchi-1
Osun-1
Rivers-1

Total: 51 confirmed cases#COVID19Nigeria

— NCDC (@NCDCgov) March 25, 2020
March 25: Former Veep donates 50 million naira
Nigeria's former vice-president, Atiku Abubakar, has made a donation towards the country's coronavirus relief fund. The 50 million naira ($135,000) donation was announced this in a statement he issued on Wednesday.
According to him, the donation is being made on his behalf by Priam Group to form part of the stimulus package the federal government should create for Nigerians.
He said: "I commend all all individuals and corporate organisations who have one way or the other provided some form of relief for the Nigerian people. I further call on more more corporations and individuals with capacity, to assist the public in these trying times.
"To this end, Priam Group pledges N50 million on my behalf as my humble contribution to a relief Fund that will form part of the stimulus package."
Atiku confirmed earlier this week that one of the sons had tested positive for the virus and was currently receiving treatment in Abuja.
March 24: Lagos alerts to potential mass infection
The Lagos State government in Nigeria has announced a potential case of mass infection with respect to coronavirus. A message posted on their Twitter handle said a current patient had attended a big entertainment event that took place mid-March.
"I hereby notify you that all participants at the African Magic Viewers' Choice Award (AMVCA) held on 14th March at Eko Hotels may have come in contact with one of the confirmed cases in Lagos and
are most likely to have been exposed to #COVID19 Infection."
The message gave guidelines to all attendees including to observe strict self-isolation, contact the authorities when they notice any symptoms.
The said hotel complex on Monday announced a partial closure which it called a scaling down of operations to minimize coronavirus risk.
The award event in question, AMVCA, is an annual accolade presented by Multichoice recognizing outstanding achievement in television and film. The inaugural Africa Magic Viewers' Choice Awards ceremony was held in Lagos, Lagos State in Nigeria on 9 March 2013.
Attendees at the said event are therefo advised to:
1️⃣observe strict self- isolation.
2️⃣ call our #TollFree line 08000corona if they notice any of the #COVID19 related symptoms
3️⃣ Let's #TakeResponsibility by practicing #SocialDistancing to prevent the spread of the virus.WHO

— LSMOH (LSMOH) March 24, 2020
March 24: President tests negative, chief of staff infected
Nigerian President Muhammadu Buhari took a coronavirus test and was declared negative by the Nigeria Centre for Disease Control (NCDC), multiple local news portals have reported.
The test was carried out on Monday and the results delivered to the president "this morning in Abuja," the local news portal THISDAY reported.
His chief of staff, Mallam Abba Kyari, however, tested positive for the disease which precipitated the need to test the president.
Kyari tested positive for COVID-19 on Monday after he had travelled to Germany on Saturday, March 7th to meet with officials of Siemens in Munich on the Nigerian electricity expansion programme.
He returned on March 14th, but did not show any symptoms. Twenty-four hours later he started showing symptoms following which he voluntarily submitted himself for testing, the results of which were delivered yesterday. He has since gone into absolute isolation following the test result.
March 23: Nigeria imposes partial lockdown
Nigeria's federal government has announced a raft of measures aimed at controlling the coronavirus pandemic in the country, Africa's most populous.
The new measures were released by the Presidential Task Force on COVID-19. The new directive borders on border closures, a strong stay-away advice for residents of the administrative and commercial capitals and suspension of the weekly cabinet meeting.
A presidential aide in charge of new media, Tolu Ogunlesi shared major highlights of the regulations that are to be implemented immediately by relevant authorities.
All of Nigeria's land borders, which have hitherto been under partial closure, shall now be closed for human traffic for four weeks effective 23rd March, 2020
All Abuja and Lagos residents are strongly advised to stay at home, avoid mass congregation of any kind as well as non-essential outings, until further advice is given.
Suspension of the weekly Federal Executive Council,

FEC

, meetings until further notice. Postponement of the meeting of the Council of State scheduled for Thursday 26th March, 2020.
In order to protect Federal Civil and Public Servants, a circular is to be issued by the Head of Civil Service of the Federation (

HCSF

), which shall direct on actions to be taken immediately.
The total ban on international travels shall commence at 12.00 midnight tonight at all our airports.
March 22: Nigerians celebrate medic who identified index case
Nigeria's southwestern Ogun state government on Saturday (March 21) revealed the identity of the doctor who suspected the index case of coronavirus in Nigeria.
The state ministry of health in a series of tweets appreciated the doctor, Amarachukwu Allison, whose vigilance and brilliance it said "led to the early diagnosis and rapid containment of the first Covid-19 infection.
Allison is a doctor at Lafarge Plc, a cement manufacturer. The disclosure comes almost a month after the index case, of an Italian, who arrived in Nigeria on February 24, was confirmed by Lagos State and the federal government.
The Italian, who is a consultant with Lafarge, reportedly spent the night at an undisclosed hotel near Lagos airport and moved to the company's facility in Ewekoro, Ogun state, the next morning.
He was said to have spent the night at Lafarge's facility when he fell sick and was taken to the company's medical centre where preliminary diagnosis began.
After testing positive for the disease, he was subsequently quarantined at the Infectious Disease Centre in Yaba, Lagos state. He has since tested positive and has been discharged by the Lagos State medical outfit that treated him.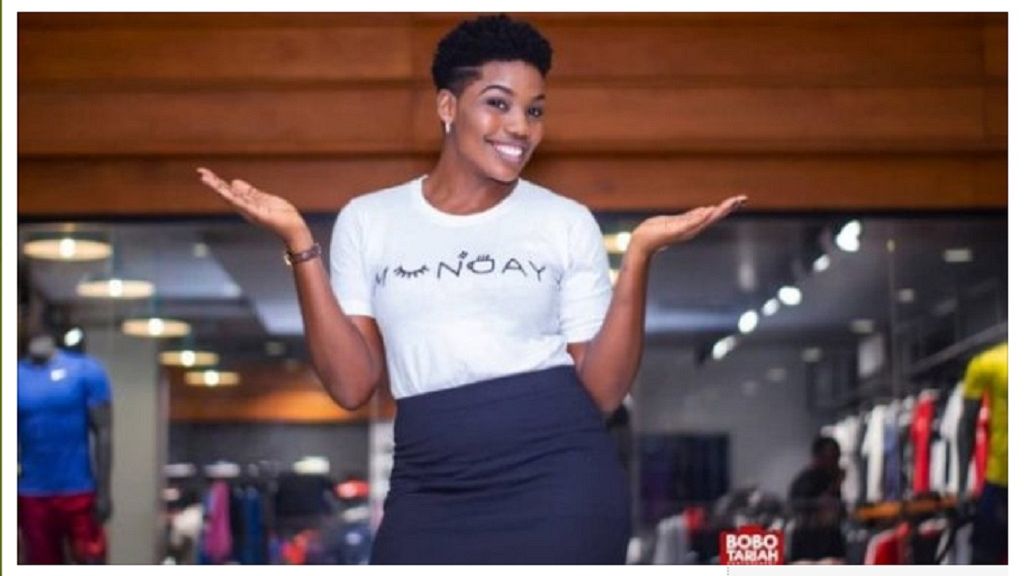 Heroine medic responds via Twitter:
Responding to the Osun government's tweet, Allison thanked God "for intuition and knowledge" and for the safety of her teammates.
"I want to thank God Almighty for intuition and knowledge and also for the safety of my teammates and I who worked together at the time," she said.
"My special prayers to health workers around the world who have paid the supreme sacrifice and to all families who have lost loved ones. To all unsung heroes, thank you."
She effectively enters the league of Stella Adadevoh, a Nigerian medic celebrated in the country for having kept out the Ebola epidemic from the country years back.
Adadevoh helped curb the spread of Ebola virus in Nigeria by placing the patient zero, Patrick Sawyer, in quarantine despite pressures from the Liberian government.
I want to thank God Almighty for intuition and knowledge and also for the safety of my teammates and I who worked together at the time.

Special thanks to Lafarge, NCDCgov OGCovid19update LSMOH Fmohnigeria IntlSOS for their prompt and professional https://t.co/Dm4cAU51ya

— Amarachukwu Karen Allison (mzGolden17) March 21, 2020
March 20: Chloroquine posioning in Lagos
An official of Nigeria's Lagos State government has disclosed that hospitals are receiving patients suffering from chloroquine poisoning.
Oreoluwa Finnih, a Senior Special Assistant to Lagos governor has thus urged the public to desist from using the anti-malaria drug as a measure of preventing coronavirus infection. In Nigeria reports indicate that the drug's price has been hiked since the news broke.
Chloroquine has been gaining traction on social media since some news agencies reported it had been approved for the COVID-19 pandemic.
The outlets cited U.S. president Donald Trump as making the claims. America's Food and Drugs Authority, FDA, has since disclaimed the assertion saying the drug has not been cleared for any such purpose.
AN URGENT APPEAL:
People are hoarding and buying chloroquine out of panic. People who need chloroquine for other illnesses may die due to this madness.

Chloroquine pack yesterday 8,000 naira
Today 25,000 naira.

This is insane.
Govt must act NOW.

Pls RT this for someone to act.

— #OurFavOnlineDoc ? (@DrOlufunmilayo) March 20, 2020
March 18: Nigeria bans travelers from 13 countries
Nigeria's federal government announced on Wednesday that it will ban travellers from 13 countries as a measure of controlling the coronavirus pandemic.
The affected countries include China, the United States and the United Kingdom. The measure will however take effect on Saturday March 21.
Nigeria joins a number of countries across the continent that have announced travel bans on countries with high coronavirus cases. Some countries have used reported cases to activate the bans. Ghana for example says travellers from countries with 100 or more cases will be refused entry.
Nigeria currently has three confirmed cases, one of which has been discharged after recovery. The index patient, an Italian, is still receiving treatment.
Citizens had on social media piled pressure on government to follow the trend and bar certain countries from entry into Africa's most populous nation. All three cases are in the commercial capital of Lagos.
The Nigerian Government has restricted entry to travellers from these countries: China, Italy, Iran, South Korea, Spain, Japan, France, Germany, Norway, U.S, the United Kingdom, Netherlands and Switzerland. pic.twitter.com/mUMLCRfc2o

— Ministry of Interior (@MinOfInteriorNG) March 19, 2020
March 17: Nigeria confirms third coronavirus case
Nigeria has recorded a new coronavirus case in the commercial capital Lagos. The state government confirmed the case which involves a Nigerian woman who arrived from the United Kingdom last Friday.
Akin Abayomi, the state's commissioner of health, disclosed the development at a press conference, on Tuesday. The National Center for Disease Control said the patient developed symptoms during her 14-day self-isolation
"She is clinically stable & is being treated at Infectious Disease Hospital, Lagos," the NCDC quoted the Minister as saying. The new case is presently the only case because the first two patients had fully recovered and been discharged.
The current case is independent of the index patient, an Italian who flew into Lagos on a Turkish Airline flight. The second patient was connected to the index patient.
Most Nigerians on social media have been calling on the government to close the airspace as a measure of control. A number of African countries have closed their borders including the banning of public gatherings. Nigeria has yet to announce any such measures.
Nigeria, Africa's most populous country has been on high alert since the first case. Authorities especially in Lagos along with the disease control outfit, have been giving regular updates on developments.
The Honourable Minister Fmohnigeria has announced the 3rd case of #COVID19 in Nigeria

The case is a Nigerian who returned to Lagos from UK & developed symptoms during her 14-day self-isolation

She is clinically stable & is being treated at Infectious Disease Hospital, Lagos pic.twitter.com/eRKAAx3JzK

— NCDC (NCDCgov) March 17, 2020