90 Day Fiance
couple Lisa and Usman were just shown meeting in Nigeria on Season 4 of
90 Day Fiance: Before the 90 Days
, so what happened next? Has the couple called it quits or are they still together and possibly even married?
[90 Day Fiance Spoilers Warning: This report contains spoilers that reveal if Lisa and Usman are still together and whether the 90 Day Fiance: Before the 90 Days couple has married].
Lisa, a 52-year-old hospice caregiver from York, PA, and Usman "SojaBoy," a 30-year-old rapper from Nigeria, are currently starring on 90 Day Fiance: Before the 90 Days' fourth season, which debuted February 23 on TLC.
RELATED LINK: '90 DAY FIANCE' COUPLES NOW: WHO IS STILL TOGETHER? WHO HAS SPLIT? WHERE ARE THEY KNOW? (PHOTOS)
Lisa said Usman had contacted her on Facebook two years prior to when filming started and they videochatted immediately so Usman could prove he wasn't a catfish.
Lisa quickly fell in love, and so she planned a trip to Nigeria so she could meet Usman in person. It would be her first trip out of the United States.
Lisa, who previously divorced an unfaithful and verbally-abusive man, said leaving the marriage was the best thing for her and her 15-year-old daughter, whom Lisa said she worked hard to support financially.
Usman is apparently an entertainer in Nigeria who has over 20,000 followers on Instagram.
Lisa therefore didn't understand why this Nigerian celebrity had feelings for her, but she revealed Usman had written a song for her that confirmed his love.
Lisa said their relationship was built on trust but she had an issue with the "thirsty" women who followed him on social media.
Lisa had an issue with women telling Usman they wanted and admired him. She therefore demanded Usman tighten up his social-media profiles after seeing some flirty comments had been left by women, such as heart emojis. (It appears Lisa has something in common with fellow 90 Day Fiance star Angela Deem!)
Lisa revealed Usman had already proposed marriage to her and so they planned to wed once she traveled to Nigeria and then apply for a spousal visa so Usman could move to the United States.
RELATED LINK: 'MARRIED AT FIRST SIGHT' COUPLES NOW: WHO IS STILL TOGETHER? WHO BROKE UP? WHERE ARE THEY NOW? (PHOTOS)
Lisa told the cameras Usman had fulfilled all of her desires other than physical intimacy, and so she knew sex would be great because she was going to have unprotected sex with him.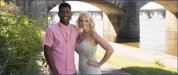 RELATED LINK: '90 DAY FIANCE' COUPLES NOW
Lisa said they loved and trusted each other, and unprotected sex was something he had never experienced before.
"He'll teach me his Nigerian ways, and I'll teach him my American ways," Lisa bragged in a confessional, adding that Usman had been tested for STDs and was clean.
Lisa was warned Usman would tell her anything she wanted to hear in order to come to America and receive a Green Card, but Lisa believed otherwise.
"I feel like this is an opportunity for me to have a love that I have never experienced in my life," Lisa gushed.
"But the one thing I am worried about are his female fans, and I need to make sure he has been faithful to me. But I won't know until I travel to Nigeria and see him face to face."
In the second episode of the series, Usman promised Lisa that he loved her and she shouldn't worry about his fans, but she knew the temptation for him to cheat was always there.
Usman told Lisa they could hold hands in public but not in his family's house since he's Muslim. Lisa, a Christian, admitted her biggest fear was Usman's mother not giving her a blessing to wed.
RELATED LINK: '90 DAY FIANCE: BEFORE THE 90 DAYS' COUPLES NOW: WHO IS STILL TOGETHER? WHO HAS SPLIT? WHERE ARE THEY NOW? (PHOTOS)
Usman said his mother feared Lisa was taking him to the United States so he could be a slave, which appeared to shock Lisa, but Usman was certain his mother would accept her and grow to love her as well.
Lisa asked Usman to be by her side 24 hours a day once she arrived in Nigeria. She expected them to have quality time, with none of his friends around to steal the attention she wanted from her man.
"If my life is one week [or] one month with this man, I've lived a full life," Lisa told her friends before she left America.
Lisa's friends were worried about her safety in Nigeria and being kidnapped or something like that, but Lisa gushed, "If I die in Nigeria, I'll die a happy woman because I'll be with the man I love."
Lisa planned to attend a premiere party with Usman for his new music video, and she couldn't wait.
"He's absolutely the man of my dreams. If this is a scam, it's going to break my heart and I will not recover from it," Lisa said in a confessional.
In Episode 3 of the series, Lisa was shown flying over to Nigeria to meet her 30-year-old fiance.
Usman lived with his two friends in one room but said he was very successful in entertainment. "SojaBoy" said he loves his fans and performing is his ultimate passion.
Before Lisa's arrival, Usman went to hang out with a couple of friends, and he said his dream is to become the king of hip-hop and R&B in America. Usman had hopes to take over the world with his music.
RELATED LINK: 'DANCING WITH THE STARS' PROS AND THEIR SIGNIFICANT OTHERS: WHO'S DATING OR MARRIED TO WHOM!? (PHOTOS)
Usman's friends were surprised to see a photo of Lisa because of her age, but Usman said age didn't matter and there's more to beauty than what's on the outside. Usman told his friends Lisa is 49 years old, and they were absolutely shocked.
Usman's pal Joseph wanted Usman to focus on music, especially in light of the fact Usman admitted Lisa was a very jealous woman. Usman said Lisa made his career more difficult because Lisa spoke to his fans whenever he posted something on social media.
"I just have to try to tolerate her," Usman said in a confessional, before telling his pals he had already decided to be with Lisa forever and always.
When Lisa arrived, Usman had a hotel room ready for her, complete with roses and a stuffed bear. He said he was very excited and nervous, noting it was rare to have a white woman travel to Nigeria for a man.
Usman brought his two roommates along for the trip and hoped that wouldn't be a problem for Lisa. He also said if he didn't find himself attracted to Lisa, there was going to be a big issue.
When the pair reunited in the airport, they hugged and kissed. Usman told the cameras he was "in heaven" and in "paradise," holding his love, and Lisa expressed how Usman was even more handsome in person. She called him "so damn hot."
Usman admitted Lisa had "a bit more belly" than he was thinking. He would've liked her to have a bigger chest with a little waist and big hips, but he said Lisa had a big heart and that's what mattered most.
RELATED LINK: '90 DAY FIANCE: HAPPILY EVER AFTER?' COUPLES NOW: WHO IS STILL TOGETHER? WHO HAS SPLIT? WHERE ARE THEY NOW? (PHOTOS)
Usman introduced his roommates to Lisa, and she appeared happy to meet them. The guys were surprised to see she had "a tummy" as well, but Usman insisted he was happy and everything was fine.
However, Lisa said Usman wasn't paying much attention to her once they got in a car, and she hoped he wasn't going to break any more promises he had made her. After traveling 20-plus hours, she wanted a romantic night with Usman, and his friends were hindering that for her.
Usman knew Lisa wanted to be alone for three weeks, but he wanted to involve her in his life since he believed she would become his wife. The pair madeout in the back of the car, and Usman's friends couldn't help but poke fun at them.
Once Lisa and Usman made it to the hotel, Lisa kicked his friends out — and Usman had no problem with that. The couple got settled into a nice room, and the romance began once she saw Usman had roses for her.
"Are you looking forward to sex with Lisa?" a producer asked Usman.
"Umm, despite the fact she's not the kind of woman I am attracted to, she still has the lady's part and I still have the guy's part, so it's going to be cook — groovy, cruising. Oh my God!" Usman replied.
Lisa was more than ready to introduce "the sexual part" into their relationship since she claimed they had established every other aspect of a relationship already.
So did Usman and Lisa split up or are they still together? Did the 90 Day Fiance couple get married?
Lisa and Usman not only are still a couple, but they are reportedly married!
Photos of what appeared to be Lisa and Usman's wedding ceremony leaked online last year by Starcasm.
One picture appeared to show the couple holding their Nigerian marriage certificate.
RELATED LINK: '90 DAY FIANCE: BEFORE THE 90 DAYS' COUPLES NOW: WHO IS STILL TOGETHER? WHO HAS SPLIT? WHERE ARE THEY NOW? (PHOTOS)
Lisa reportedly chose not to wear any makeup on her wedding day at Usman's request, and Lisa changed her name to Usman's mother's name when she got married. 
Based on posts Lisa has made on Facebook, she and Usman reportedly began dating in June 2018 and then tied the knot on August 30, 2019.
Usman also shared a post on Facebook in December 2019 that showed a screenshot of a text message Lisa had sent him in which she talked about converting to Islam, Starcasm reported.
"Wasn't for your mom or anyone in our lives, not even you," Lisa allegedly wrote, "this was a decision that I made for myself."
Lisa reportedly received her fair share of backlash on social media after revealing she's married to Usman, but it doesn't really seem to phase her!
Lisa is clearly a feisty woman who brushes insults right off her back.
When one fan reportedly wrote to Lisa, "I wish you were faithful tho," she reportedly replied, "What do you mean my husband is faithful to me. Keep moving."
Lisa then went off at the online troll and, according to Starcasm, wrote, "She is a typical Nigerian b*tch an ppl from my husband area wonder why he married a WHITE AMERICAN WOMAN. FACT STANDS I AM A GOOD WOMAN SO LET MY HATERS COME @USMAN SERIOUSLY ILL F**KING MAKE HER CRY."
The commenter continued to allege Usman had been "f-cking around" on her, advising Lisa to get checked for sexual transmitted diseases.
"Jealous much b*tch? Get in line to kiss my white a**," Lisa reportedly responded.
"You mad bc I married Usman Sojaboy no wonder Nigerian men are choosing to marry anyone but a Nigerian woman like you."
In addition to being a musician, Usman is also reportedly an actor in Nigeria.
RELATED LINK: '90 DAY FIANCE' COUPLES NOW: WHO IS STILL TOGETHER? WHO HAS SPLIT? WHERE ARE THEY KNOW? (PHOTOS)
Want 90 Day Fiance spoilers? Click here to visit our 90 Day Fiance Spoilers webpage!